Swan Productions,LLC
P.O. Box 3451
Manhattan Beach,
CA 90266
PASADENA:
Tues. April 18, 2000
8:00 p.m.
REDONDO BEACH:
Mon. April 17, 2000
8:00 p.m.
Perhaps the best-known American diplomatist of this century, Henry Kissinger is a major figure in world history and arguably one of the most brilliant minds ever to serve in the area of American foreign policy. He is one of the most articulate, shrewdest and best-informed figures to be in a position of power in Washington. Winner of the Nobel Peace Prize, he served as Secretary of State under two Presidents, and also National Security Advisor for six years.

TO ORDER TICKETS, CLICK HERE.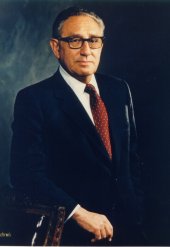 The Dalai Lama
Dr. Jeane Kirkpatrick
Ben Bradlee & Sally Quinn
Walter Cronkite
Carl Reiner
Mark Russell
Dr. Henry Kissinger
Doris Kearns Goodwin

Jean-Michel Cousteau