Swan Productions,LLC
P.O. Box 3451
Manhattan Beach,
CA 90266
PASADENA:
Wed. January 26, 2000
8:00 p.m.
REDONDO BEACH:
Tues. January 25, 2000
8:00 p.m.
Known as the original "anchorman," Walter Cronkite has witnessed virtually every crucial news event during his more than 60 years in journalism. CBS News has been his home for 49 years and polls over the last three decades have named him one of the most trusted men in America. Affectionately nicknamed "Old Iron Pants" for his unflappability under pressure, he set a standard for integrity, objectivity and insight that has won him acclaim from colleagues and the American public alike.

TO ORDER TICKETS, CLICK HERE.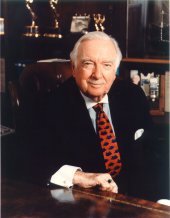 The Dalai Lama
Dr. Jeane Kirkpatrick
Ben Bradlee & Sally Quinn
Walter Cronkite
Carl Reiner
Mark Russell
Dr. Henry Kissinger
Doris Kearns Goodwin
Jean-Michel Cousteau