BOB WOODWARD - Pulitzer Prize-Winning Investigative Reporter
Rescheduled
Monday

May 3, 2004

at Redondo Beach 8:00 pm
Tuesday

May 4, 2004

at Thousand Oaks 8:00 pm
Wednesday

May 5, 2004

at Pasadena 8:00 pm

As the most respected investigative reporter in the news business, Woodward is an assistant managing editor of Investigative News for The Washington Post, where he has worked since 1971. Named one of the Best Investigative Reporters in America by The New York Times, he has won nearly every American journalism award. The Pulitzer was given to the Post in 1973 for the reporting of Woodward and Carl Bernstein on the Watergate scandal. In addition, Woodward was the lead reporter for the Post's articles on the aftermath of September 11th terrorist attacks that won the National Affairs Pulitzer Prize in 2002.

Woodward first gained national attention when he teamed with Carl Bernstein to investigate the burglary at the Watergate office building. Since then he's achieved national acclaim as the only contemporary American to author or co-author eight #1 national best-selling non-fiction books, including All The President's Men, The Final Days, The Agenda, The Choice, Shadow - Five Presidents and the Legacy of Watergate, which surveys the legacy of the Watergate scandal on contemporary politics, Maestro: Greenspan's Fed and the American Boom, a look at Federal Reserve chairman Alan Greenspan and the American economy. Woodward's most recent release, Bush at War (November 2002), is a look at George W. Bush's war on terrorism.

Woodward was born March 26, 1943 in Illinois. He graduated from Yale University in 1965 and served five years as a communications officer in the U.S. Navy before beginning his journalism career at the Montgomery County (Maryland) Sentinel, where he was a reporter for one year before joining the Post. In 1973, Woodward teamed with Carl Bernstein at The Post to investigate the burglary at the Watergate office building and the scandal in the Nixon administration.

He lives in Washington, D.C. with his wife, Elsa Walsh, an author and writer for the New Yorker. They have two daughters, Tali and Diana.

Woodward shares with audiences his unique and gritty perspective on the White House, presidential campaigns, Congress, the Supreme Court, the CIA, and the Pentagon.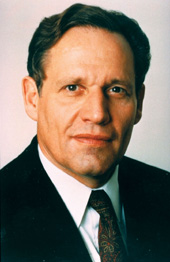 Shimon Peres
Frank Abagnale
Bob Woodward
Rudy Giuliani
Molly Ivins
Dave Barry
Karen Hughes