KAREN HUGHES - Advisor and Former Counselor to President George W. Bush
Mon.

May 24, 2004

at Thousand Oaks 8:00 pm
Tues.

May 25, 2004

at Pasadena 8:00 pm
Wed.

May 26, 2004

at Redondo Beach 8:00 pm

Described as "the most powerful woman ever to serve in the White House" (Dallas Morning News), and President George W. Bush's "most essential advisor" (ABC News). "The rule of thumb in any White House is that nobody is indispensable except the president, but Karen Hughes has come as close to that description as any recent presidential aide." (The New York Times). Hughes is one of President Bush's most trusted and longtime confidantes serving as an aide while he was governor and during the first 18 months of his presidency. She directed the White House communications apparatus. She returned to Texas in the middle of last year and has continued to advise the president. Most recently she has been a key advisor to the president and his administration, writing speeches and developing a communications strategy for the Iraq War.

As Counselor to The President for his first eighteen months in the White House and as his communications director since he first ran for Governor of Texas in 1994, Hughes has been a crucial influence in President Bush's inner circle. When he first moved to Washington, President Bush told members of the White House staff that he wanted Hughes in the room whenever any major decisions were made.

During her tenure in the Bush White House, Hughes advised the president on a wide range of issues, crafted the communications and message strategy for the administration and was responsible for overseeing the Offices of Press Secretary, Media Affairs, Speechwriting and Communications. She helped develop and lead the international communications effort during the early months of the war against terror and was instrumental in creating the new White House Office of Global Communications.

Although she left the White House in the summer of 2002 to move her family home to Texas, Hughes continues to advise President Bush on communications strategy through a retainer arrangement with the Republican National Committee. Hughes served as Director of Communications for both of President's Bush's gubernatorial campaigns in 1994 and 1998 and was one of the "Iron Triangle" of Texans who led his successful campaign for president. She also served as Director of Communications in Governor's Bush's state office throughout his tenure as Governor.

Hughes is a former Executive Director of the Republican Party of Texas and a former television news reporter for KXAS-TV, the NBC affiliate in Dallas/Fort Worth. She is an elder and long time Sunday school teacher in the Presbyterian Church. She is married with a grown stepdaughter and a teenage son, and tried to bring a "Mom's perspective" to our nation's public policy debate.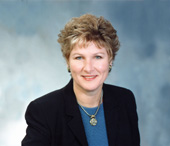 Shimon Peres
Frank Abagnale
Bob Woodward
Rudy Giuliani
Molly Ivins
Dave Barry
Karen Hughes