RUDY GIULIANI - Former Mayor of New York City & American Hero
Mon.

February 16, 2004

at Redondo Beach 8:00 pm
Tues.

February 17, 2004

at Thousand Oaks 8:00 pm
Wed.

February 18, 2004

at Pasadena 8:00 pm

A hero to many, an icon of steadfastness in the midst of chaos, his fearless actions and comforting words after the tragedy on Sept. 11 were an example of leadership and humanity at its best. His eloquence under fire made him a global symbol of healing and defiance. His fame began as a US Attorney in NYC when he almost single handedly brought organized crime to its knees. Later, as the city's 107th mayor he made NYC safe again and returned it to its past luster. Best-selling author of Leadership, Giuliani was named Time Magazine's 2001 Person of the Year.

On September 11, 2001, the rest of the world found out what New Yorkers already knew, that Mayor Giuliani was a determined leader who could bring them remarkable strength and stability at a time of great uncertainty. During the crisis he became, in essence, "America's Mayor." He calmed, consoled and reassured the public, while urging them to return to their normal lives and not to let the terrorists achieve their aim of disrupting life. In one of the saddest times in American history, the remarkable leadership of Mayor Giuliani and the extraordinary heroism of his fellow New Yorkers restored faith in the ideals that are so vital to a free society.

In 1944, Rudolph W. Giuliani was born to a working class family in Brooklyn, New York. As the grandson of Italian immigrants, Giuliani learned a strong work ethic and a deep respect for America's ideal of equal opportunity. He went to high school at Bishop Loughlin Memorial, graduated from Manhattan College and in1968 he graduated magna cum laude from New York University Law School.

In 1970, Giuliani joined the office of the U.S. Attorney. At age 29, he was named Chief of the Narcotics Unit and rose to serve as executive U.S. Attorney. In 1975, Giuliani was recruited to Washington, D.C., where he was named Associate Deputy Attorney General and chief of staff to the Deputy Attorney General. From 1977 to 1981, Giuliani returned to New York to practice law.

In 1981, Giuliani was named Associate Attorney General. In this role he supervised all of the U.S. Attorney Offices' Federal law enforcement agencies, the Bureau of Corrections, the Drug Enforcement Agency, and the U.S. Marshals. In 1983, Giuliani was appointed U.S. Attorney for the Southern District of New York, where he spearheaded the effort to jail drug dealers, fight organized crime, break the web of corruption in government, and prosecute white-collar criminals. Few U.S. Attorneys in history can match his record of 4,152 convictions with only 25 reversals.

In 1993, Giuliani became the 107th Mayor of the City of New York. As Mayor, Giuliani returned accountability to City government and improved the quality of life for all New Yorkers. Under his leadership, overall crime went down 57%, murder was reduced 65%, and New York City - once infamous around the world for its dangerous streets - was recognized by the F.B.I. as the safest large city in America for over five years.

While mayor Giuliani also cut the welfare rolls in half and enacted a record of over $2.5 billion in tax reductions. Mayor Giuliani was also committed to nurturing and empowering New York City's children, he turned around the nation's largest urban public education system, Giuliani worked tirelessly to restore accountability and raise standards throughout the City's schools.

Under Giuliani's leadership, New York City became the best-known example of the resurgence of urban America. From his success at cleaning up Times Square and other public spaces around the City to closing the Fresh Kills landfill on Staten Island, Mayor Giuliani worked tirelessly to pass New York to the next generation better and more beautiful than it was before he entered office.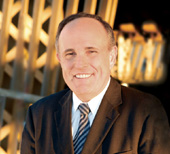 Shimon Peres
Frank Abagnale
Bob Woodward
Rudy Giuliani
Molly Ivins
Dave Barry
Karen Hughes