FRANK ABAGNALE - Reformed Con Artist & Subject of "Catch Me If You Can"
Mon.

November 17, 2003

at Thousand Oaks 8:00 pm
Tues.

November 18, 2003

at Redondo Beach 8:00 pm
Wed.

November 19, 2003

at Pasadena 8:00 pm

"Abagnale's lecture may be the best one man show you will ever see". - Tom Hanks

Frank W. Abagnale is the youngest person ever placed on the FBI's Ten Most Wanted list, he led the government on a chase from 1964-66, impersonating doctors, pilots, lawyers; forging and cashed cashed $2.5 million dollars worth of bad checks - all before he was 18 years old. Caught and sent to jail, he was released into the custody of the FBI and became their foremost expert on check forgery. Today, Frank Abagnale is a consultant for the FBI, specializing in keeping con artists from stealing like he did.

Abagnale will present an entertaining discussion of his escapades. His incredible story has a moral. In an emotional roller coaster ride he takes you from laughter to tears and explains what life is really about. He has been voted one of the top five speakers in the United States by the Internaional Platform Association and was elected the #1 Campus Speaker in America by the National Entertainment College Conference Association.

Mr. Abagnale has been associated with the FBI for over 25 years. He lectures extensively at the FBI Academy and for the Field offices of the Federal Bureau of Investigation. He is one of the world's most respected authorities on the subjects of forgery, embezzlement, and secure documents. More than 14,000 financial institutions, corporations, and law enforcement agencies, and government agencies around the world use his programs. In 1998 he was selected as a distinguished member of the "Pinnacle 400" by CNN Financial News.

His rare blend of knowledge and expertise began as a teenager. More than 30 years ago, he was known as one of the world's most famous confidence men as depicted in his best-selling book, Catch Me if You Can. With an I.Q. of 136 and only a 10th grade education, he successfully cashed millions in fraudulent checks in every state and 26 foreign countries over a five-year period. Between the ages of 16 and 21, he successfully posed as an airline pilot, an attorney, a college professor, a Los Angeles stock brocker, a pediatrician and even an FBI agent. Apprehended by the French police when he was 21 years old, he served time in French, Swedish, and U.S. prison systems. After five years, he was released on the condition that he would help the government, without remuneration, by teaching and assisting federal law enforcement agencies.

His thrilling story, now being told on film in Steven Spielberg's 2002 hit movie, Catch Me if You Can, starring Leonardo DiCaprio, Tom Hanks and Christopher Walken. This film is full of adventure and excitement, but most of all, love. His latest book, The Art of the Steal, is now available through Random House/Broadway Books.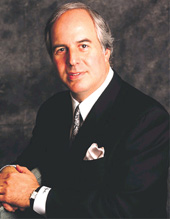 Shimon Peres
Frank Abagnale
Bob Woodward
Rudy Giuliani
Molly Ivins
Dave Barry
Karen Hughes