SHIMON PERES - Former Prime Minister of Israel & Nobel Laureate
Mon.

October 13, 2003

at Thousand Oaks 8:00 pm
Tues.

October 14, 2003

at Redondo Beach 8:00 pm
Wed.

October 15, 2003

at Pasadena 8:00 pm

In the long and continuing struggle for harmony in the Middle East, there is no more lasting or devoted peace-seeker than twice-elected Israeli Prime Minister Shimon Peres. The winner of the 1994 Nobel Peace Prize, Mr. Peres has dedicated his entire adult life to the formation of his country and the realization of peace between Israel and her neighbors.

Shimon Peres was born in Poland in 1923 and immigrated to Israel with his family as a child. He studied at the Ben Shemen Agricultural School, and was one of the founders of Kibbutz Alumot in the Jordan Valley. In 1943, he was elected secretary of the Hano'ar Ha'oved youth. In the 940's Peres began his military career. During Israel's War of Independence, he was responsible for arms purchases and recruitment, and in 1948 was appointed head of the naval services.

Peres was appointed Deputy Director-General of the Ministry of Defense in 1952 and served as its Director-General between 1953-1959. He has been a Member of the Knesset since 1959 and served as Deputy Minister of Defense from 1959-1965. In 1965, he left the Mapai Labour Party with Ben-Gurion and became Secretary-General of Rafi. In 1968, he was instrumental in bringing Rafi back to Mapai to form the Israel Labour Party. In the 1970's, he served as Israel's Minister of Defense. The highlight of his tenure as Defense Minister was the Entebbe rescue operation. He was elected Prime Minister in 1984 and served until 1986. During his first term as Prime Minister, Israel withdrew from Lebanon and an economic stabilization plan was implemented which saved the Israeli economy from near collapse.

As Foreign Minister and Prime Minister in the 1990's, he was the key architect of the historic Oslo Peace Accords. In March 2001, Peres was appointed Minister of Foreign Affairs and Deputy Prime Minister in the National Unity government headed by Ariel Sharon, serving until October 2002 when he resigned together with the other Labor ministers.

He is the founder of the Peres Center for Peace, a non-partisan, non-profit organization dedicated to promoting peace and economic stability in the Middle East. Shimon Peres has authored many books including: The Next Step, David's Sling, And Now Tomorrow, From These Men, Entebbe Diary, The New Middle East, Battling for Peace, and his most recent work The Imaginary Voyage.

Shimon Peres is married to Sonya (nee Gelman); they have two sons and a daughter - and six grandchildren.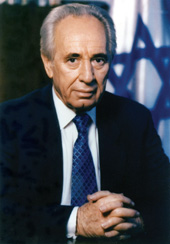 Shimon Peres
Frank Abagnale
Bob Woodward
Rudy Giuliani

>
Molly Ivins
Dave Barry
Karen Hughes