Swan Productions,LLC
P.O. Box 3451
Manhatten Beach,
CA 90266


May 5, 2003 REDONDO BEACH 8:00 p.m.
May 6, 2003 THOUSAND OAKS 8:00 p.m.
May 7, 2003 PASADENA 8:00 p.m.

    The third child of Robert and Ethel Kennedy, this member of one of our nation's most revered political families is a resolute defender of the environment. Robert Kennedy, Jr. is hailed for spearheading the fight to protect New York City's water supply. This courtroom victory led to the creation of the Watershed Agreement, a landmark piece of environmental legislation, which many others around the world have been modeled. An accomplished environmental lawyer, Robert Kennedy, Jr. has taken aim at polluters, prosecuting governments and businesses for mucking up the Hudson River and Long Island Sound. He's gone so far as to sue sewage treatment plants to force compliance with the Clean Water Act, and he's argued cases to expand public access to the shoreline. His environmental work is also praised for assisting several indigenous tribes in Latin America and Canada in hammering out treaties to protect traditional homelands.
Robert Kennedy, Jr. got the reputation early on as the "nature boy" of the family, spending much of his childhood chasing family pets, sometimes tending to homing pigeons, and one time rescuing an abandoned sea lion. Today, he is a licensed master falconer, and avid kayaker and skier, and a regular pro with white-water paddles. He even led white-water enthusiasts on three little-known rivers in Peru, Columbia, and Venezuela.
Robert Kennedy, Jr. serves as chief prosecuting attorney for Riverkeeper, an independent environmental organization founded in 1983; and as senior attorney for the Natural Resources Defense Council. He is also a clinical professor and supervising attorney at the Environmental Litigation Clinic at Pace University School of Law in New York.
The co-author of the best-selling book The Riverkeepers, Robert Kennedy, Jr. has published articles in such national publications as The New York Times, Atlantic Monthly, and The Wall Street Journal. A graduate of Harvard, Kennedy received his law degree in environmental law from Pace University. Earlier in his career, he served as assistant district attorney in New York City. He has worked on several political campaigns, serving as state coordinator for Edward Kennedy's 1980 presidential campaign.


TO ORDER TICKETS, CLICK HERE.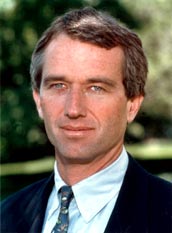 Whoopi Goldberg
Sally Ride
Tom Brokaw
David McCullough
Benazir Bhutto
Elie Wiesel
George Will
Robert Kennedy Jr.