Swan Productions,LLC
P.O. Box 3451
Manhatten Beach,
CA 90266


October 14, 2002 REDONDO BEACH 8:00 p.m.
October 15, 2002 THOUSAND OAKS 8:00 p.m.
October 16, 2002 PASADENA 8:00 p.m.

     This comedienne, dramatic actress, producer and humanitarian has done it all and garnered worldwide acclaim in the process. In addition to her Oscar, Grammy and two Golden Globe Awards, she has been honored with multiple NAACP Image Awards, numerous People's Choice Awards and an unprecedented five Nickelodeon Kids' Choice Awards as "Favorite Movie Actress." Whoopi Goldberg recently received the prestigious Kennedy Center's Mark Twain Prize for humor, and Tony award for producing the Broadway musical hit Thoroughly Modern Millie. Throughout her life, she has tirelessly raised millions on behalf of children, the homeless, AIDS, cancer and many other causes.
Born and raised in New York City, Whoopi Goldberg has been performing in front of audiences since the age of 8, when she first appeared onstage at the Helena Rubinstein Children's Theatre in New York City. By the mid-1970's, she had appeared in the choruses of several Broadway musicals, including Hair, Jesus Christ Superstar and Pippin.
As an adult, Whoopi worked in theater and improvisation in San Diego and the Bay Area, where she created the characters that evolved into a hit Broadway show, Grammy Award-winning album and HBO special, Whoopi Goldberg, Direct from Broadway, that helped launch her career. She made her motion picture debut in Steven Spielberg's film version of Alice Walker's The Color Purple, for which she earned an Academy Award nomination and a Golden Globe Award. Her performance in Ghost earned her both the Academy Award and Golden Globe Award as Best Supporting Actress.
Whoopi Goldberg has appeared in a steady stream of popular motion pictures, gaining the respect of film critics the world over. Her film credits include Jumpin' Jack Flash, Fatal Beauty, Clara's Heart, Boys on the Side, Ghosts of Mississippi, How Stella Got Her Groove Back, Girl Interrupted, Kingdom Come, Rat Race and the worldwide hits The Lion King and Sister Act.
This year Whoopi Goldberg hosted the Academy Awards for the fourth time. She remains the first black woman to emcee the Academy Awards as a solo act. On television, she has appeared in many series and specials, including her own HBO specials. She has three times served as host of ABC's A Gala for the President at Ford's Theatre and has completed eight Comic Relief telecasts with Billy Crystal and Robin Williams. She also appeared for five seasons on Star Trek: The Next Generation among other television credits.
Whoopi Goldberg has also made her mark as a producer. She is executive producer of and appears in the center square on the Emmy Award-winning Hollywood Squares. She is also executive producer of Lifetime's Strong Medicine, which currently is the top-rated drama series on cable television. In addition to the recent Lifetime Original Movie What Makes a Family, Whoopi Goldberg was also executive producer of the Showtime television movie Ruby's Bucket of Blood. Other producing projects include the now-in-production feature films The Piano Man's Daughter and The Mao Game; and the Broadway musical revival of Thoroughly Modern Millie; and the TNT Original Movie Call Me Clause, in which she also stars.


TO ORDER TICKETS, CLICK HERE.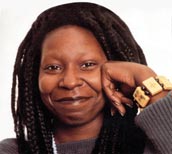 Whoopi Goldberg
Sally Ride
Tom Brokaw
David McCullough
Benazir Bhutto
Elie Wiesel
George Will
Robert Kennedy Jr.