Swan Productions,LLC
P.O. Box 3451
Manhatten Beach,
CA 90266


February 17, 2003 REDONDO BEACH 8:00 p.m.
February 18, 2003 THOUSAND OAKS 8:00 p.m.
February 19, 2003 PASADENA 8:00 p.m.

    Twice elected Prime Minister of Pakistan, Benazir Bhutto is a living icon in the battle for democracy, and stands with only a handful of female executive leaders who have shaped the global events of the last century. Benazir Bhutto, at the age of 35, became the youngest Chief Executive Officer in the world and the first woman Prime Minister in the Muslim world.
From 1977 to 1988, as leader of the Pakistan People's Party, Benazir Bhutto waged a relentless struggle for the restoration of democracy and human rights in her country. She had been imprisoned under deplorable conditions for 6 long years, witnessed the trauma of the hanging of her father in April of 1979 and was constantly threatened and harassed while in prison until a serious illness forced her tormentors to send her into exile.
From exile, Ms. Bhutto guided the resistance to the military regime in Pakistan, mobilizing world public opinion on behalf of the restoration of democracy to her people. She returned from exile to Pakistan in April 1986 to a popular reception unparalleled in the history of South Asia.
After the death of dictator General Zia-al-Haq in a plane crash in August 1988, Benazir Bhutto led her party to a sweeping electoral victory in November and was sworn in as Prime Minister. Declaring, "democracy is the best revenge," she guided the people of Pakistan from near anarchy to the management of democracy. She acted forcefully to restore constitutional freedom to the press and reallocated resources to Pakistan's long neglected social sector. After just 20 months in office, on Aug. 6, 1990, her government was unconstitutionally dismissed in what the international press called an "extraconstitutional coup." Undeterred she led the Opposition in the National Assembly for three years until she was re-elected on Oct. 16, 1993.
During the 36 months that she served as Prime Minister, in her second term her government built more than 24,000 primary and secondary schools, electrified almost all villages across the four provinces of the country, and brought the modern information age to Pakistan. Her government embarked on an unprecedented initiative in power generation and power distribution, which is considered a model for the entire developing world. She also privatized and deregulated most of the major industries in the country, and institutionalized revolutionary macroeconomic reform.
Working side-by-side with President Clinton, Ms. Bhutto re-established normal bilateral relations with the United States, convinced Congress to dramatically amend the Pressler sanctions against Pakistan, and worked closely with the United States on anti-terrorism, drug interdiction, illegal immigration, and U.S. currency counterfeiting.
Ms. Bhutto's government was dismissed on Nov. 5, 1996, two full years before the constitutional end of her term.
Benazir Bhutto was born in Karachi in 1953. After completing her early education in Pakistan, she attended Radcliff College and Oxford University where she obtained a degree in Philosophy, Politics and Economics.


TO ORDER TICKETS, CLICK HERE.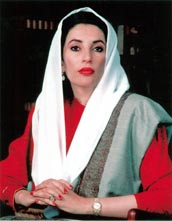 Whoopi Goldberg
Sally Ride
Tom Brokaw
David McCullough
Benazir Bhutto
Elie Wiesel
George Will
Robert Kennedy Jr.