Swan Productions,LLC
P.O. Box 3451
Manhatten Beach,
CA 90266


December 2, 2002 REDONDO BEACH 8:00 p.m.
December 3, 2002 THOUSAND OAKS 8:00 p.m.
December 4, 2002 PASADENA 8:00 p.m.

    As America's #1 news anchor, Tom Brokaw is one of America's most trusted figures in broadcast journalism. His distinguished broadcast journalism career has taken him around the globe brilliantly investigating and reporting on issues of the day. He is the author of one of the decade's biggest sellers, The Greatest Generation, a written account of the generation of Americans born in the 1920s, who came of age during the Great Depression, fought in World War II, and went on to build America. He followed it with The Greatest Generation Speaks: Letters and Reflections and An Album of Memories: Personal Memories from the Greatest Generation
Born in 1940 in Webster, South Dakota, Tom Brokaw rose from humble beginnings to his current role, the sole anchor and managing editor of weekday NBC Nightly News with Tom Brokaw, a title he has held since 1983. As an anchor, Tom Brokaw is equally at ease covering news events from the world's capitals or in small towns across America, whether from his anchor desk at NBC News' world headquarters in New York, or from locations across the country or around the world.
Tom Brokaw has an extensive history of firsts with prominent world leaders and global events. He conducted the first exclusive US one-on-one television interview with Mikhail Gorbachev, earning an Alfred I. DuPont-Columbia University Award. He was the only anchor to report from the scene the night the Berlin Wall fell, and was the first American anchor to report on human rights abuses in Tibet and to conduct an exclusive interview with the Dalai Lama. In 1995, Brokaw was the first network evening news anchor to report from the site of the Oklahoma City bombing. He has anchored the Nightly News from the White House lawn, rooftops in Beirut, the Great Wall of China, the streets on Kuwait during Operation Desert Storm, the streets of Jerusalem, and Soweto in South Africa.
Tom Brokaw has received numerous awards for his work including a Peabody for his report entitled "To Be an American." He also received an Emmy for his "China in Crisis" special report and in 1997, he was inducted into Broadcasting and Cable's prestigious TV Hall of Fame.
Tom Brokaw began his broadcast journalism career in 1962 at KMTV in Omaha after graduating from the University of South Dakota with a degree in political science. In 1965, he moved to WSB-TV in Atlanta and specialized in reports on the civil rights movement. In 1966 he moved to Los Angeles and became a featured political reporter and anchor of the late evening news on KNBC-TV. In 1973, Tom Brokaw was named NBC News White House Correspondent.
Tom Brokaw and his wife Meredith are parents to three daughters. They spend their time between their home in New York City and their ranch in Montana.


TO ORDER TICKETS, CLICK HERE.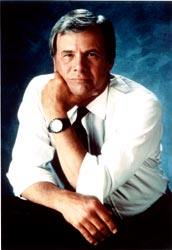 Whoopi Goldberg
Sally Ride
Tom Brokaw
David McCullough
Benazir Bhutto
Elie Wiesel
George Will
Robert Kennedy Jr.