Steve Martin
Iconic Actor, Comedian, Author, Playwright & Musician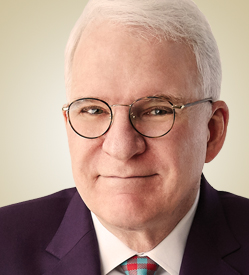 Beverly Hills: Sunday, January 8, 2017, 7:00 p.m.
Redondo Beach: Monday, January 9, 2017, 8:00 p.m.
Thousand Oaks: Tuesday, January 10, 2017, 8:00 p.m.
Pasadena: Wednesday, January 11, 2017, 8:00 p.m.
Steve Martin is one of the most legendary and diversified performers in the entertainment industry today. An actor, comedian, author, playwright, producer, and musician, Martin is an iconic figure whose roles have forever been ingrained into our popular culture.
The Jerk, Dead Men Don't Wear Plaid, Three Amigos!, Roxanne, Planes, Trains & Automobiles, Dirty Rotten Scoundrels, Parenthood, L.A. Story, Father of the Bride, The Out of Towners, Cheaper by the Dozen, The Pink Panther…these are but some of the films for which Martin has earned millions of fans worldwide.
He's hosted the Oscars three times and Saturday Night Live more than anyone else. He's won four Grammy awards—two for comedy and two for his banjo CDs, and yet he also keeps busy off-stage, collecting art, playing the banjo and writing.
His first two novellas, Shopgirl, and The Pleasure of My Company, were ranked on bestseller lists around the country including The New York Times. His other books include his autobiography, Born Standing Up; two children's books, The Alphabet from A to Y with Bonus Letter Z! and Late For School; a bestselling collection of comic pieces, Pure Drivel; and his latest adult novel, An Object of Beauty. . His work frequently appears in The New Yorker and The New York Times.
A talented playwright as well, Martin's first original play, the comedy-drama Picasso at the Lapin Agile was presented by Chicago's prestigious Steppenwolf Theatre. Following rave reviews, it continues to be mounted in productions worldwide to nationwide critical and audience acclaim. His other plays include WASP, and the dark comedy, The Underpants. Martin currently has an original musical, Bright Star open on Broadway that he co-wrote with Edie Brickell.
Ever evolving his body of work, Steve Martin is also a Grammy Award winning musician who found his love for the banjo at the age of 17. Martin originally used his passion for the banjo as part of his standup comedy routine, but in 2010, he released his first album, The Crow: New Songs for the 5-String Banjo. Martin released his second full length bluegrass album, Rare Bird Alert, in 2011. The album featured 13 Steve Martin-penned tracks as well as special guest vocal appearances by Paul McCartney and The Dixie Chicks. That year, Martin won the International Bluegrass Music Association's Entertainer of the Year Award. He most recently collaborated with Edie Brickell on the critically acclaimed album, Love Has Come For You. Martin and Brickell took home the Grammy Award for "Best American Roots Song" for the song album's title song.