Paul Nicklen
Nat Geo's 2018 Adventurer of the Year, Conservation Activist & Wildlife Photographer
Beverly Hills Sunday, May 19, 2019 at 7:00 pm
Redondo Beach Monday, May 20, 2019 at 8:00 pm
Thousand Oaks Tuesday, May 21, 2019 at 8:00 pm
Pasadena Wednesday, May 22, 2019 at 8:00 pm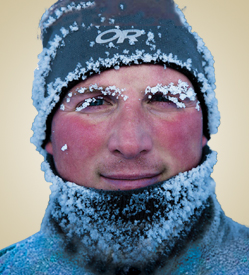 As a young boy Paul Nicklen moved to Baffin Island with his family and spent his childhood among the Inuit people. From them he learned a love of nature, the understanding of icy ecosystems, and the survival skills that have helped him become one of the most successful wildlife and nature photographers of our generation.
A passionate advocate for polar and marine biodiversity, Nicklen has spent most of his adult life working in the Arctic and Antarctica. As a photojournalist working in some of Earth's most remote and extreme environments, he faces incredible hardships and personal danger in pursuit of intimate and powerful images of iconic wildlife. His unique style of storytelling blends the ethereal beauty of the icy realm and the mysteries of some of the most elusive polar creatures—both above and underwater— with some of the harsh realities facing these unique and important ecosystems. Working as a photographer for National Geographic magazine, Nicklen has covered a variety of natural history and conservation issues, from the slaughter of narwhals to the environmental impact of salmon farming to the importance of sea ice and polar ecosystems.
Despite the challenges, he travels constantly in search of meaningful stories that touch people's emotions and help the public at large connect with some of our planet's most threatened ecosystems. His work delivers audiences to an underwater realm witnessed by few. He has been an assignment photographer for National Geographic magazine for 15 years and recently named a National Geographic photography fellow. He has produced 17 stories for the magazine and is currently working on another six.
Nicklen's sensitive and evocative imagery has garnered over 30 of the highest awards given to any photographer in his field, including the BBC Wildlife Photographer of the Year, the prestigious World Press Photo for Photojournalism and with his partner Cristina Mittermeier, was named the 2018 National Geographic Adventurers of the Year.
Along with his passion for capturing the world's most iconic wildlife and environments, he is also dedicated to protecting and conserving it. Along with his partner, Nicklen founded  SeaLegacy to change the narrative around our world's oceans and show the global community what is at stake, rally soldiers of support—and ignite real and lasting change.