Malcolm Gladwell
Thinker, Observer, Journalist & Best-Selling Author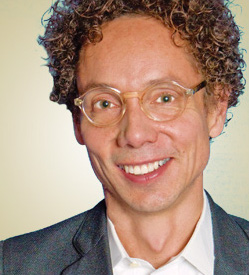 Master storyteller, Gladwell has an incomparable gift for making big ideas understandable and accessible. He is one of the world's most celebrated thinkers and author. Malcolm Gladwell is the author of five New York Times bestsellers — The Tipping Point, Blink, Outliers, What the Dog Saw, and now, his latest, David and Goliath: Underdogs, Misfits and the Art of Battling Giants. He has been named one of the 100 most influential people by TIME magazine and one of the Foreign Policy's Top Global Thinkers.
He has explored how ideas spread in the Tipping Point, decision making in Blink, and the roots of success in Outliers. With his latest book, David and Goliath, he examines our understanding of the advantages of disadvantages, arguing that we have underestimated the value of adversity and over-estimated the value of privilege.
He has been a staff writer for The New Yorker since 1996. He has won a national magazine award and been honored by the American Psychological Society and the American Sociological Society. He was previously a reporter for The Washington Post.