Malala Yousafzai
Nobel Laureate & Education Activist
Beverly Hills Sunday, May 15, 2022 at 7:00 pm
Long Beach Monday, May 16, 2022 at 8:00 pm
Thousand Oaks Tuesday, May 17, 2022 at 8:00 pm
Pasadena Wednesday, May 18, 2022 at 8:00 pm
Redondo Beach Thursday, May 19, 2022 at 8:00 pm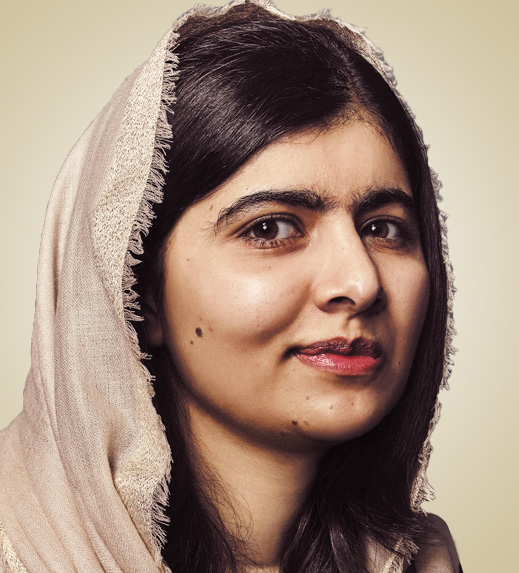 A champion since the age of 10 for the rights of girls to receive an education and the youngest recipient of the Nobel Peace Prize, Malala Yousafzai made headlines when she was shot by the Taliban in 2012 at the age of 15 while traveling home from school on the bus with her friends in Pakistan. Now living with her family in Birmingham, England, she is internationally known for her courage in refusing to be silenced and continues to campaign for the right of every child to go to school.
At a very young age, Malala developed a thirst for knowledge. Born on July 12, 1997, in Mingora, the largest city in the Swat Valley in what is now the Khyber Pakhtunkhwa Province of Pakistan, she was enrolled in her father's school at the age of 4. Truly her father's daughter, while other children fantasized about playing with toys, Malala fantasized about giving lectures. Her brother jokingly shares that Malala is "addicted to books." But it was in the hallways of her father's school that Malala found her voice and her vision. Her father, Ziauddin Yousafzai, is a Pakistani educator, activist, and humanitarian who established a thriving school in their rural home in Swat Valley, which aimed to provide educational opportunities for all children. Ziauddin's dedication to education and peaceful resistance against the Taliban made the world take notice.
In 2007, when Malala was ten years old, the situation in the Swat Valley rapidly changed for her family and community. The Taliban began to control the Swat Valley and quickly became the dominant socio-political force throughout much of northwestern Pakistan. Girls were banned from attending school, and cultural activities like dancing and watching television were prohibited. Suicide attacks were widespread, and the group made its opposition to a proper education for girls a cornerstone of its terror campaign. By the end of 2008, the Taliban had destroyed some 400 schools.
Determined to go to school and with a firm belief in her right to an education, Malala stood up to the Taliban. Alongside her father, Malala quickly became a critic of their tactics. "How dare the Taliban take away my basic right to education?" she once said on Pakistani TV.
Malala began her campaign for girls' education at age 11 with her anonymous blog for the BBC, Diary of a Pakistani Schoolgirl, about life under the Taliban. Malala soon began advocating publicly for girls' education. She would join her father on his visits to neighboring villages to recruit for the school. While he spoke to the men, she would speak to the women. Their crusade was the subject of a New York Times short documentary in 2009. Independently, Malala began attracting international media attention and awards. Her voice grew louder, and over the course of the next three years, she and her father became known throughout Pakistan for their determination to give Pakistani girls access to a free quality education. Her activism resulted in a nomination for the International Children's Peace Prize in 2011. That same year, she was awarded Pakistan's National Youth Peace Prize. But not everyone supported and welcomed her campaign to bring about change in Swat. On the morning of October 9, 2012, 15-year-old Malala Yousafzai was shot by the Taliban.
Malala recovered in the United Kingdom and has continued her fight for girls ever since. In 2013, she founded Malala Fund with her father. A year later, Malala received the Nobel Peace Prize in recognition of her efforts to see every girl complete 12 years of free, safe, quality education. At age 17, she became the youngest person to receive this prize. Accepting the award, Malala reaffirmed that "This award is not just for me. It is for those forgotten children who want education. It is for those frightened children who want peace. It is for those voiceless children who want change."
Malala is the author of three books, I Am Malala: The Girl Who Stood Up for Education and Was Shot by the Taliban, Malala's Magic Pencil and We Are Displaced: My Journey and Stories from Refugee Girls Around the World.
Currently residing in Birmingham, Malala is an active proponent of education as a fundamental social and economic right. Through the Malala Fund and with her own voice, Malala Yousafzai remains a staunch advocate for the power of education and for girls to become agents of change in their communities. In June 2020, Malala completed her undergraduate degree at Oxford University, with a focus on Philosophy, Politics, and Economics.
There are not many young women who have survived an assassination attempt, or become the youngest Nobel Peace Laureate, or opened the largest library in Europe declaring "pens and books are the weapons that will defeat terrorism." Even with these accomplishments, Malala does not consider herself extraordinary. That is "simply Malala," as she would describe herself.