Jay Leno
Comedian & Legendary Tonight Show Host
Beverly Hills Sunday, April 10, 2022 at 7:00 pm
Redondo Beach Monday, April 11, 2022 at 8:00 pm
Thousand Oaks Tuesday, April 12, 2022 at 8:00 pm
Pasadena Wednesday, April 13, 2022 at 8:00 pm
Long Beach Sunday, April 24, 2022 at 8:00 pm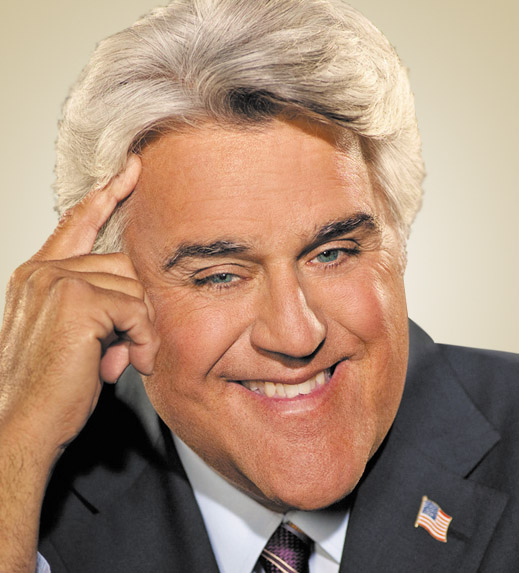 Acclaimed TV late night show host, admired stand-up comedian, best-selling children's book author, TV and movie voice-over artist, pioneering car builder and mechanic, and philanthropist…Jay Leno is widely characterized as "the hardest working man in show business."
Jay Leno may be best known for dominating late-night television for almost two decades from behind the desk of The Tonight Show, but he got his start as one of the most creative comedic voices of the '70s and '80s. Known for his legendary laidback, everyman-style of standup, he is also widely characterized as "the hardest working man in show business."
It was in May of 1992 when Jay Leno followed in the footsteps of legendary NBC late-night hosts Steve Allen, Jack Paar and Johnny Carson as the Tonight Show host. From that point on, it was ratings domination.
Jay Leno's late-night television ratings rule included more than two decades of The Tonight Show with Jay Leno, winning every consecutive quarter of his hosting over the past 19 years. After resuming hosting the 11:35pm program following its one-time interruption, he made it once again the consistent and uninterrupted ratings leader for late night.  Once again, The Tonight Show with Jay Leno was leading all of the ensuing quarters handily, under the supervision throughout of executive producer Debbie Vickers. He has been honored by the Television Academy with an Emmy for "Outstanding Comedy, Variety or Music Series." The Tonight Show with Jay Leno has also taken home the trophy for "Favorite Late-Night Show" in the annual TV Guide Awards determined by voting viewers, and he was recently installed in the Television Academy's Broadcast Hall of Fame.
As if night-time dominance were not enough, Leno has also succeeded in the newest entertainment arena. Jay Leno's Garage of which he is a producer as well as star. The NBC creation, which is viewed on CNBC, gained an international following on the Web, not to mention an Emmy Award and two additional nominations for Outstanding Special Class–Short-Format Nonfiction Programs. Leno, himself, is the recipient of the People's Choice Award and other honors, including the Harris Poll selection as most popular star on television. Other personal highlights include his induction into the Academy of Television Arts and Sciences' Broadcasting Hall of Fame, his 2014 reception of the John F. Kennedy Center for the Performing Arts' Mark Twain Prize for American Humor, the Hasty Pudding Award at Harvard University, an honor whose sole prior comedy/talk host recipient was Johnny Carson and an honorary doctorate from his alma mater, Emerson College. Like Mr. Carson, Groucho Marx, and an elite group of entertainment figures, he has been invited to have his papers installed in the Library of Congress. He also received a star on Hollywood's Walk of Fame (asking that it be placed in front of the Ripley's Believe It Or Not Museum since is where he was arrested for vagrancy when he first arrived in Hollywood. He also has set several land speed records and became the first person to drive the pace car of all major NASCAR events.
Having passed the torch of Tonight Show succession to Jimmy Fallon, he remains a tireless performer. Leno loves to test his humor live on audiences across the nation, performing over 100 live appearances in nightclubs, theaters, and stadiums each year. His "everyman" style and personality have helped him earn millions of fans worldwide, especially in the regions where people relate to his personable style and work ethic. He remains passionate about performing in front of live audiences, including the military, and appears regularly in Las Vegas, on college campuses around the United States and in many other venues.
When he is not performing, writing, or doing charitable work, Leno keeps busy doing voice-over work in such movies as Cars and Igor and the hit TV show The Fairly Oddparents. He also is a monthly columnist in Popular Mechanics and enjoys working on his collection of classic cars and motorcycles as well.
He and his wife Mavis, an ardent human rights activist, live in Los Angeles.