Jane Pauley
Beloved Anchor from NBC's Today Show & Best-Selling Author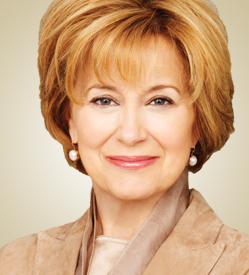 In 2014, every baby boomer will have reached the milestone age of fifty. For most, it's not an end but the beginning of something new. Jane Pauley, one of America's most beloved and trusted broadcast journalists for over 30 years, has been called "America's baby boomer". In her presentation, she will offer humor and insight about the journey forward.
Pauley's career has spanned morning, primetime and daytime television making her one of the most recognizable personalities in America. Her network television career began as co-host of NBC's Today Show, she was founding co-anchor of Dateline NBC, and host of The Jane Pauley Show.
Recognized as a powerful advocate in the field of mental health, Pauley wrote candidly about being diagnosed with mental illness at the age of 50, after medical treatment for hives triggered a previously unrecognized vulnerability to bipolar depression. She addressed her subsequent journey of self-reflection and wellness, which she chronicled in her New York Times Bestselling memoir, Skywriting: A Life Out of the Blue.
Her new best-selling book, Your Life Calling: Reimagining the Rest of Your Life features boomers now entering midlife with a different perspective of the future than any generation and the ways they are reinventing their lives. In January of this year, Pauley announced she was leaving NBC News to join CBS News to serve as a contributor to "CBS Sunday Morning."