Jane Fonda & Lily Tomlin
Legendary Award-Winning Actors and Activists
Beverly Hills Sunday, October 20, 2019 at 7:00 pm
Orange County Monday, October 21, 2019 at 7:30 pm
Thousand Oaks Tuesday, October 22, 2019 at 8:00 pm
Pasadena Wednesday, October 23, 2019 at 8:00 pm
Redondo Beach Thursday, October 24, 2019 at 8:00 pm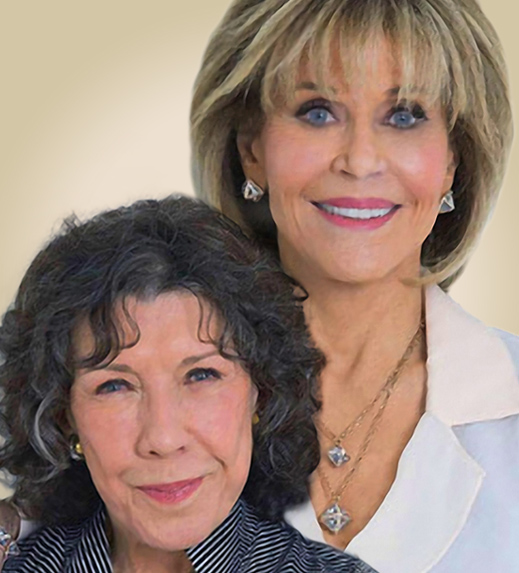 It is both rare and special to find such an uplifting and hilarious friendship in Hollywood, but legendary friends and actors, Jane Fonda and Lily Tomlin, have found it. Fonda and Tomlin have been friends for over forty years and have taken their friendship to the next level: starring in their own hit Netflix series, Grace & Frankie.
As two of America's foremost comediennes, Jane Fonda and Lily Tomlin continue to venture across an ever-widening range of media; starring in television, theater, motion pictures, animation, video, and social media. Throughout their extraordinary careers, Fonda and Tomlin have both received numerous awards and advocated for women across the world.
Jane Fonda is a New Yorker and a two- time Academy Award® winner (Best Actress in 1971 for Klute and in 1978 for Coming Home), a three-time Golden Globe® winner, and was the 2014 recipient of the AFI Life Achievement Award.  Along with starring roles in dozens of highly acclaimed productions, Fonda also took on responsibilities as a film and television producer.  Her credits include Coming Home, The China Syndrome, Nine to Five, Rollover, On Golden Pond, The Morning After and The Dollmaker.
In 2007 Fonda received an Honorary Palme d'Or from the Cannes Film Festival, one of only three people ever to be granted this honor until then.  In 2009 she received a Tony Award nomination for her role in Moisés Kaufman's 33 Variations, on Broadway.
Fonda revolutionized the fitness industry with the release of Jane Fonda's Workout in 1982.   The original Jane Fonda's Workout video remains the top grossing home video of all time.


In fall 2017 her film, Our Souls at Night, co-starring Robert Redford premiered on Netflix. The co-stars were honored with Golden Lions for Lifetime Achievement in September 2017 at the 74th Venice Film Festival. Fonda also premiered Jane Fonda in Five Acts, a documentary chronicling her life and her activism, at the 2018 Sundance Film Festival.
 Jane also celebrated her 80th birthday by helping raise nearly $1 million for the Women's Media Center which she co-founded with Gloria Steinem and Robin Morgan and which works to make women and girls more visible and powerful in media.
Lily Tomlin was born in Detroit, Michigan and grew up in a working-class neighborhood on the outskirts of one of the city's most affluent areas. Although she claims she wasn't funny as a child, Tomlin admits she "knew who was and lifted all their material right off the TV screen." She now has earned seven Emmys; a Tony for her one woman Broadway show, Appearing Nitely; a second Tony for Best Actress, a Screen Actors Guild Nomination for her role on The West Wing,  a Drama Desk Award and an Outer Critics Circle Award for her one woman performance in Jane Wagner's The  Search for Signs of Intelligent Life in the Universe; a Cable Ace Award for Executive Producing the film adaptation of The Search; a Grammy for her comedy album, This is a Recording as well as nominations for her subsequent albums Modern Scream, And That's the Truth, and On Stage; and two Peabody Awards–the first for the ABC television special, Edith Ann's Christmas (Just Say Noël), and the second for narrating and executive producing the HBO film, The Celluloid Closet. In 2003, she received the Mark Twain Prize for American Humor and, in December 2014, was the recipient of the prestigious Kennedy Center Honors in Washington, DC.
Tomlin began her career as a stand-up comedienne and made her film debut in Robert Altman's Nashville, and gave a generation-defining performance alongside Dolly Parton and Jane Fonda in the workplace revenge comedy 9 to 5. Her other notable films include  All of Me (1984), Big Business (1988), Flirting with Disaster (1996), Tea with Mussolini (1999), I Heart Huckabees (2004), and Grandma (2015).
Tomlin is well-known for supporting philanthropic organizations, particularly those focused  on  animal welfare,  civil  rights, health  care,  protection of  elephants,  women's issues, AIDS-related organizations, environmental concerns, overcoming homelessness and supporting the LGBTQ community in all aspects of life.
Together, Fonda and Tomlin star in Netflix's hit series, Grace and Frankie, which premiered its fourth season in January 2018. Both women have received an Emmy nomination for Outstanding Lead Actress in a Comedy Series.