James Comey
Former FBI Director
Beverly Hills Sunday, February 10, 2019 at 7:00 pm
Pasadena Monday, February 11, 2019 at 8:00 pm
Thousand Oaks Tuesday, February 12, 2019 at 8:00 pm
Redondo Beach Wednesday, February 13, 2019 at 8:00 pm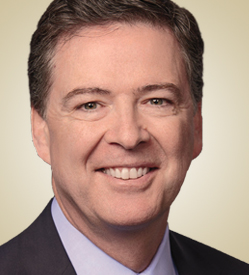 James Comey was appointed by President Barack Obama in 2013 to lead the Federal Bureau of Investigation as the seventh Director of the FBI. His four-year tenure was tested by new forces within and outside America's borders. He oversaw the federal response to mass shootings in San Bernardino in December 2015 and at Pulse nightclub in Orlando the following June, at the time the deadliest in the country's history. He also worked to address key leadership, agility, and diversity issues within the Bureau. In May 2017, Comey was fired by President Trump amidst political storms regarding the investigations into Russian meddling in the 2016 election.
Prior to his service at the FBI, Comey worked as a federal prosecutor in New York and Virginia as well as U.S. attorney for the Southern District of New York and the U.S. deputy attorney general in the administration of President George W. Bush.
In the private sector, he has worked at law firms and as the general counsel of Lockheed Martin, the world's largest defense contractor, and Bridgewater Associates, the world's largest hedge fund.
Comey is the 2017–2018 Gwendolyn S. and Colbert I. King Endowed Chair in Public Policy at Howard University. He has been an adjunct professor at the University of Richmond School of Law and a Hertog Fellow in National Security Law at Columbia Law School.
A native of the New York metropolitan area, Comey attended the College of William & Mary and the University of Chicago Law School. During the fall of 2018, he will return to his alma mater of W&H, to teach a course of ethical leadership.
He and his wife Patrice have five children and live in northern Virginia.