George W. Bush
43rd President of the United States of America
Beverly Hills Sunday, September 19, 2021 at 7:00 pm
Long Beach Monday, September 20, 2021 at 8:00 pm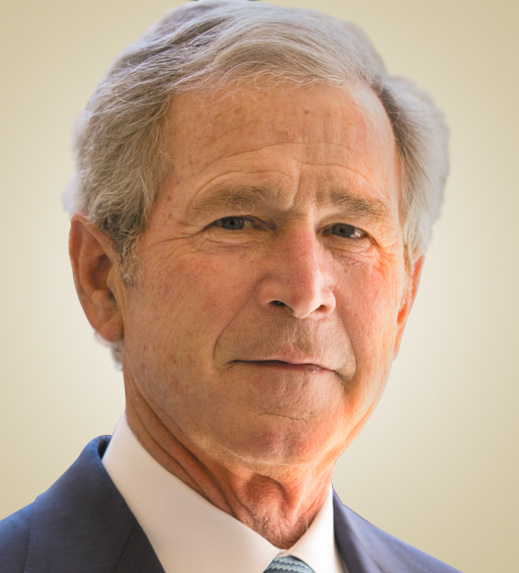 President during a momentous period in American history, George W. Bush offers his thoughts on eight years in the Oval Office, the challenges facing our nation in the 21st century, the power of freedom, the role of faith and other pressing issues. "The advance of freedom is the calling of our time; it is the calling of our country."
George W. Bush, the 43rd President of the United States, was sworn into office on January 20, 2001 and served as Commander in Chief for two consecutive terms. Before his presidency, he served for six years as Governor of the State of Texas.
As Commander in Chief, President Bush worked to expand freedom, opportunity, and security at home and abroad.  His Administration reformed America's education system, restored robust private-sector economic growth and job creation, protected our environment, and pursued a comprehensive strategy to keep America safe after the terrorist attacks on September 11, 2001.
His first initiative as President was the No Child Left Behind Act, a bipartisan measure that raised standards in schools, insisted on accountability in return for federal dollars, and led to measurable gains in achievement–especially among minority students. Faced with a recession when he took office, President Bush cut taxes for every federal income taxpayer, which helped lead to an unprecedented 52 straight months of job creation. President Bush also modernized Medicare by adding a prescription drug benefit that provided access to needed medicine for 40 million seniors and other beneficiaries.
President Bush implemented free trade agreements with more than a dozen nations; empowered America's armies of compassion by creating USA Freedom Corps and the Office of Faith-Based and Community Initiatives; promoted a culture of life; improved air quality and made America's energy supply more secure; designated more ocean area habitats for environmental protection than any predecessor; transformed the military to meet the changing threats of the 21st century and nearly doubled government support for veterans; pioneered a new development strategy that tied American foreign aid to reform and good governance; launched global HIV/AIDS and malaria initiatives that have saved millions of lives; expanded the NATO alliance; forged a historic new partnership with India; and appointed Chief Justice John Roberts and Justice Samuel Alito to the U.S. Supreme Court.
The most significant event of President Bush's tenure came on September 11, 2001, when terrorists killed nearly 3,000 people on American soil. President Bush responded with a comprehensive strategy to protect the American people. He led the most dramatic reorganization of the federal government since the beginning of the Cold War, reforming the intelligence community and establishing new institutions like the Department of Homeland Security. He built global coalitions to remove violent regimes in Afghanistan and Iraq that threatened America, liberating more than 50 million people from tyranny. Recognizing that freedom and hope are the best alternative to the extremist ideology of the terrorists, he provided unprecedented American support for young democracies and dissidents in the Middle East, Eastern Europe, and elsewhere. In the more than seven years President Bush remained in office following September 11, 2001, the United States was not attacked again.
Since leaving office, President Bush and former First Lady Laura Bush have focused their attention on developing the George W. Bush Presidential Center at Southern Methodist University in Dallas, Texas. The Bush Center is home to the George W. Bush Presidential Library and Museum and the George W. Bush Institute, a nonpartisan public policy and leadership development. At its core, the Bush Center will be guided by the same principles that defined the presidency of George W. Bush: freedom, opportunity, responsibility, and compassion.
President Bush is the author of three bestselling books: Decision Points (2010), 41: A Portrait of My Father (2014), and Portraits of Courage: A Commander in Chief's Tribute to America's Warriors (2017).  He and Laura are the parents of twin daughters: Barbara, married to Craig Coyne, and Jenna, married to Henry Hager. The Bushes also are the proud grandparents of Margaret Laura "Mila" and Poppy Louise and Henry Harold Hager.