Anderson Cooper
Award-Winning Broadcast Journalist & Best-Selling Author
Beverly Hills Sunday, January 26, 2020 at 7:00 pm
Orange County Monday, January 27, 2020 at 8:00 pm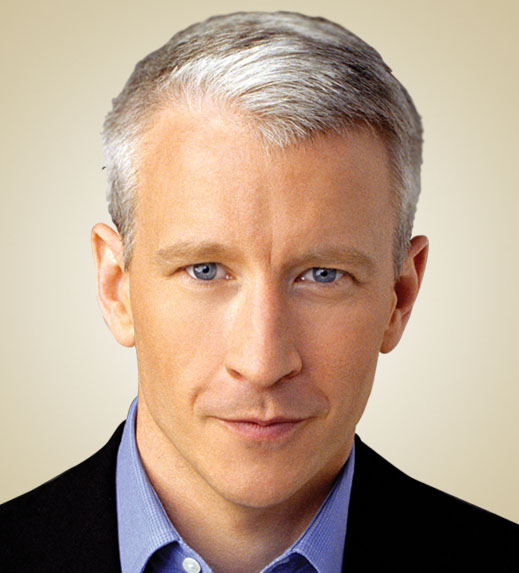 Anderson Cooper takes audiences inside the news of the day, sharing sometimes provocative yet always eye-opening insights on the stories impacting people and issues around the world.
He's one of the most recognizable faces on television and has no plans of slowing down. Relentless, fearless and locked onto the truth, Anderson Cooper spends nearly every day, including weekends (and especially New Year's Eve) working. There's Anderson Cooper 360, his five-nights-a-week newscast on CNN, which enters its 15th year this September; his gig as a 60 Minutes correspondent (he'll shoot 10 pieces for the CBS newsmagazine this season); and his new Facebook news series, Full Circle; not to mention the live road show he does with pal Andy Cohen, AC²: Deep Talk and Shallow Tales.
As the son of heiress and artist Gloria Vanderbilt and screenwriter Wyatt Cooper, Cooper grew up in the rarified world of Manhattan society. He attributes the loss of his father and brother as the reason he started roaming the globe as a young freelance journalist to war-torn places like Rwanda and Somalia, searching for others who "spoke the language of loss," and why he still travels to hotspots as much as possible.
Now, as the anchor of the Emmy-winning CNN news program Anderson Cooper 360°, he brings the most pressing stories of the day to a worldwide audience from multiple perspectives. In addition to his role as a correspondent for CBS News' 60 Minutes, Anderson is widely respected for his courageous on-the-scene reporting of breaking and oftentimes tumultuous news events at home and abroad, including Hurricane Katrina, the Egyptian Revolution and the Haitian earthquake catastrophe, and most recently the conflict in Syria, the NSA surveillance programs, the Boston Marathon bombing and Sandy Hook. Through election cycles, he has become a highly-sought debate moderator, praised most recently for his sharp, even-handed questioning yet assertive fact-checking of 2016's presidential candidates.
Before joining CNN, Cooper was an ABC News correspondent and host of the network's reality program, The Mole. Cooper anchored ABC's live, interactive news and interview program, World News Now, as well as providing reports for World News Tonight, 20/20 and 20/20 Downtown. Previously, he was a New York-based correspondent for ABC News, reporting primarily for World News Saturday/Sunday.
In addition to his television work, Cooper is also the author of the best-selling memoir, Dispatches from the Edge, based in part on his coverage of Hurricane Katrina in New Orleans. Prior to joining CNN in December 2001, Cooper hosted ABC's World News Now and traveled the world as chief international correspondent for Channel One News. In his lively and engaging delivery, this Emmy Award-winner provides an insider's look at major breaking news that is unexpected, underreported and above all timely and fascinating.
Cooper and Anderson Cooper 360° have won several major journalism awards, including multiple Emmy awards. Cooper has also earned a National Headliners Award for his tsunami coverage, an Emmy Award for his contribution to ABC's coverage of Princess Diana's funeral; a Silver Plaque from the Chicago International Film Festival for his report from Sarajevo on the Bosnian civil war; a Bronze Telly for his coverage of famine in Somalia; a Bronze Award from the National Educational Film and Video Festival for a report on political Islam; and a GLAAD Media Award for Outstanding TV Journalism for his 20/20 Downtown report on high school athlete Corey Johnson.
As a new breed of broadcast journalist, Anderson Cooper takes you to a ringside seat as he delivers a refreshingly human account of today's front-page news. On stage, Anderson brings warmth, humor and relatability to his role as a go-to authority on global news as he shares insights on American politics, culture and the oft-overlooked stories that matter to citizens. Drawing on his experience covering news in Russia, Haiti, Rwanda, Somalia, the Balkans, and the Middle East, he also brings audiences an experienced and comprehensive perspective on international affairs and the challenges that we face in a rapidly changing world.