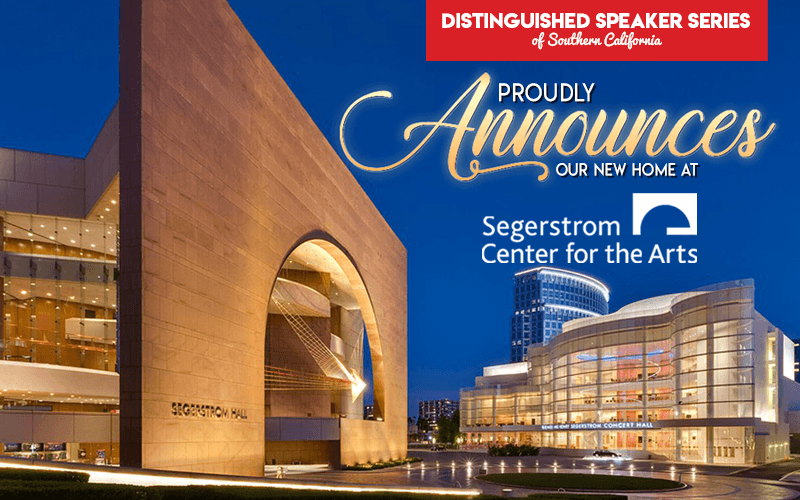 The Debut of The Distinguished Speaker Series in Orange County!
Since its opening in 1986, the $73.8 million Segerstrom Center for the Arts in Costa Mesa is arguably one of the best performing arts centers in California. So it may come as no surprise that for years, we've had our eye on this breathtakingly beautiful venue as a potential home for the Distinguished Speaker Series. The stars have finally aligned this upcoming 2019-2020 season, and we are proud to announce The Segerstrom Center for the Arts as our latest home.
Introducing: The Distinguished Speaker Series of Orange County!
In this blog, series founders (sisters Kathy Winterhalder and Sue Swan) give us an in-depth perspective on what this expansion means to them, the series, and their new OC community.
First things first: Why the move to Orange County?
Kathy Winterhalder: Orange County was missing this unique form of entertainment. We have found success with sold-out seasons in the South Bay, Beverly Hills, Pasadena and Thousand Oaks and felt the time was right to expand to Orange County.  And honestly, from the day we launched the Distinguished Speaker Series in Pasadena, 23 years ago, we have had patrons from all over Orange County making the hours long drive in traffic to enjoy our speakers. They have been asking for an Orange County Series for just as long!
What attracted you to the Segerstrom Center for The Arts?
Sue Swan: We chose the Segerstrom Center for the Arts because there is nothing like it in all of Orange County.  Not only is the Segerstrom Hall a beautiful, state-of-the-art theater, it has enough seats to accommodate the high caliber speakers that we present.  Because of its size, we're also able to offer a very affordable Series package that is not available in our other smaller theaters up in LA.
What will #SpeakersOC members love about this location?
SS: I think our subscribers will appreciate that it is easy to get to from all over Orange County.  It's not far from the freeway and there is plenty of parking. The staff is professional, and we realize that most of our subscribers will be familiar with the beautiful Segerstrom Hall and everything it has to offer.
Is there anything like this in Orange County?
KW: Nowhere else in Orange County do the arts, culture, education and entertainment collide like they do in our Series. The Distinguished Speaker Series evenings are intimate and the conversations are candid and memorable. We love that neighbors and families come together. Often stereotypes are challenged and attitudes are changed.  We've been presenting the Speaker Series for 23 seasons now and have seen in other locations, these shared experiences can ignite positive actions; where families and communities are strengthened and transformed through real, important conversation. We've also had fun too! We can't wait for patrons in Orange County to experience this.
What speaker are you most excited about?
SS: We are excited about the line-up that we were able to curate for our inaugural season at the Segerstrom.  We are absolutely thrilled that President George W. Bush agreed to participate in the season.  He rarely does this type of thing.  Anderson Cooper is another presenter that has an incredibly busy schedule and isn't doing much public speaking.  The night with Jane Fonda and Lily Tomlin, two legendary actors and friends, is going to be an unforgettable evening of hilarity and thoughtful conversation.
Which speakers will surprise members the most?
KW:  We've learned over the years, that it's the speaker that the audience is the least familiar with, who usually leaves the lasting impression.  This coming season, the two speakers whom I think will do that is Gregory Boyle and his message of compassion and Dr. Sapolsky with the fun way he presents science.
We are also proud that we bring the community together. We try to bring balance every season with speakers from the left and the right.  It's our goal to create an event that brings some of the world's most inspiring speakers to Orange County.
What type of experience can members expect from your series?
KW: We created the speaker series with curious, smart, open-minded people in mind. Our audiences are made up of families, friends, neighbors, community and business leaders who like to be entertained in a unique and compelling way.
SS: Billionaires and CEOs understand the value in this. They get exclusive invitations and pay thousands of dollars traveling the world to attend events like the Aspen Ideas Festival and the Milken Institute Global Conference. We present many of the samespeakers as these forums. However, the big distinction is, for the same price as a good steak dinner, we are bringing the sameexperience to our members at each of our locations.
What do you both love about Orange County, personally?
KW & SS:  We love the energy, the beaches, the diversity, the vibe and of course- the shopping!
Okay, final question! If you could describe the upcoming season in 3 words, what would they be?
KW: Unique, compelling, and fun.
And there you have it. Orange County, we're excited to ignite conversation and inspiration in your community. Costa Mesa is called "City of the Arts" for a reason, and we hope to only further elevate your world-class cultural scene!